---
Quellen dieses Artikels
Visitenkarte Raymond L. Saunders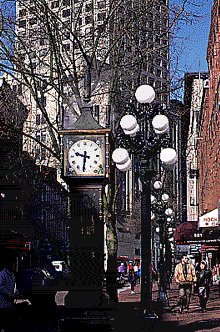 Begleitbrief des Informationspaketes der Firma Landmark
sowie das Informationspaket selber.
Werbeprospekt aus einem Ständer an der Uhr / im Geschäft
Landmark Clocks International, Werbebrochüre von Stuart Leuthner
The Vancouver Sun, August 1977, Alan Daniels
"Clock of the town steams right along"
The Vancouver Sun, Datum unbekannt, Ian Lindsay Photo
"Sealing Gastown's steam clock against water leakage"
unbekannte Publikation, Datum unbekannt, Marion Boyd
"Local craftsman creates first steam clock ever"
National geographic, Vol 154, No.4, October 1978, Mike Edwards
"Toots Tell Time To Steam Lovers" gab den Namen des Artikels
Flyer der Fluggesellschaft Pacific Western
"effective Timetable" September 1982
The Physics Teacher, October 1991, Richard Crane
"Steam Clock in Gastown"
How Things work, Department of Physics, University of Michigan
Shared Vision , Oktober 1991, Ruth Raziel
"Vision of future time"
The Vancouver Sun, 21.6.1993, What's happening on the business scene,
Bild eines 1:1 Modells der Gastown Uhr bei der Ausstellung
"Cara's new food fair" am Vancouver International Airport
Moving To & Around Vancouver, Vol.21, No.4 1994
"all you need to know about Vancouver and surrounding"
Zeitschrift 'British Columbia', 18.8.1994, Myrrhiam Brand,
"Die Dampfuhr in Vancouver"
Clocks, January 97, chapter 'Clock Talk', Richard Allen
"Steam Clock"
Clocks, Datum unbekannt, 1997, chapter 'letters', Brian Baskerville
"Full Steam Ahead", Antwort auf Artikel von Richard Allen
FAZ , 30.5.1998 Rubrik Deutschland und die Welt
"Vancouvers Dampfuhr pfeift die Melodie der Westminster Abbey"
Odenwälder Heimatzeitung 14.11.1998, Christina Kolb,
"Wenn in Vancouver die Sonne untergeht"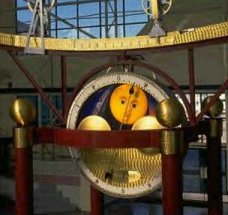 Internetadressen zum Thema
Internetadresse der Firma Landmark Clocks International

...und aus 181 Internetseiten die besten links
Weitere bekannte Quellen, jedoch vom Autor nicht gesehen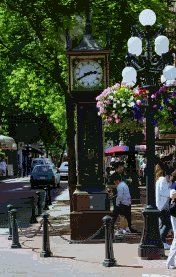 Model Engineer 163, 20.10.1989, Ivan Slee
"The Gastown Steam Clock"
Musum of Science, Science park, Boston, Shoshannah Ebersole
"entry 340 in the "Science-by-mail post", II 1990

Internet: http://www.kanada.de/
oder z.B. Lange Touristik Dienst, PF200247 in 63469 Maintal oder die Kanada Hotline unter 06181-45178 anrufen.

Die Übersetzungen dieses Artikels bzw. uhrentechnische Korrekturen deutschsprachiger Quellen sind vom Verfasser.

---
Für weitere Informationen wende Dich bitte an : Christian Borck